Soooo, I love pork ribs, porky porky goodness! But, it turns out that not everyone I knows is about pork. When recently talking about food, specifically BBQ, the mention of ribs brought up a comment about a real treat would be beef ribs. Yes, it turns out that Tim, the owner of my local java hut, Zocalo Coffeehouse, does not like pork ribs. Well, I have been tossing a few scraps of pork ribs, brisket and BBQ stew at his barrista type folks for a while and I decided I should toss a little 'Que to Tim as well.
Here they are, Niman Ranch Beef Spares, not only do these look great, but, they are cheap. Yes, despite being cut from the rib roast, being the best part of a prime rib, these suckers set me back less than $3 a pound. Look at that marbling!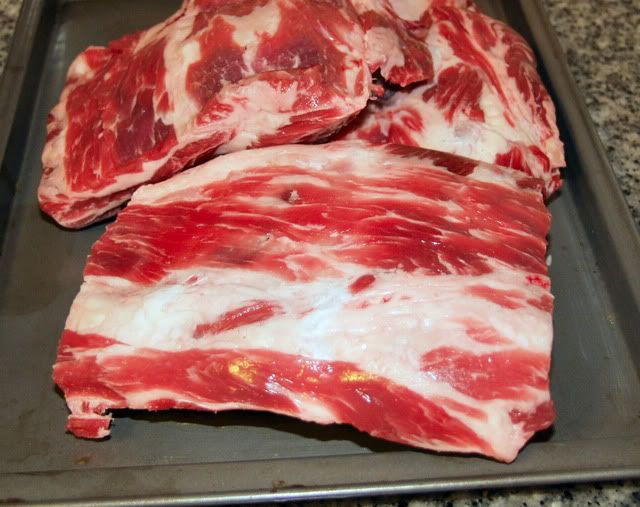 These were given a slightly different treatment than I normally do for BBQ in that I used a wet treatment to start the process. Not a slather, but, a rub down with Worcestershire sauce, rubbed in and allowed to get a little sticky. I then added some pork style rub, followed up with an hour tightly wrapped in plastic. The kettle was fired up and set to run at 250F or so, there was good old Kingsford Blue Bag and some apple and hickory tossed in for yucks. Here they are ready for the second layer of rub, a medium grain sized rub that consists of black pepper, kosher salt, orange rind and granulated garlic.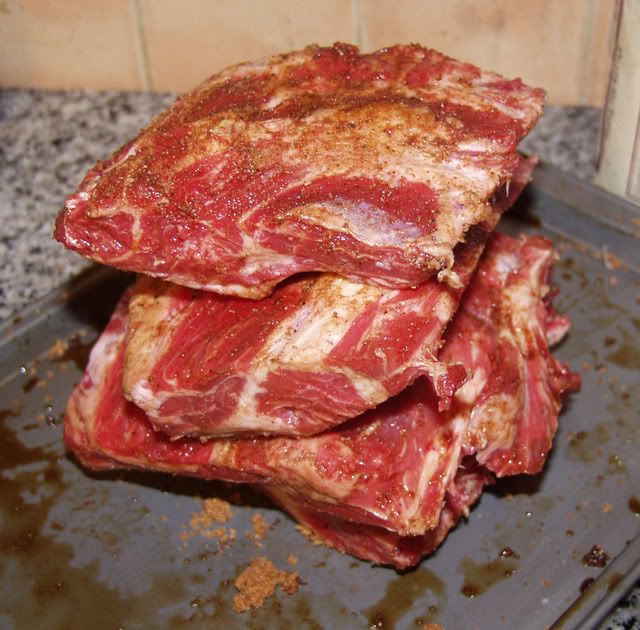 I let them run for 4 hours, or so, at the aforementioned 250F with really very little other than the occasional peak at the thermometer. I need to get batteries for that remote thermometer, I really do. The kettle just continues to amaze me with it's ability to function as a small capacity smoker, grabbing onto that 250F to 300F range with little effort. Finished product you ask?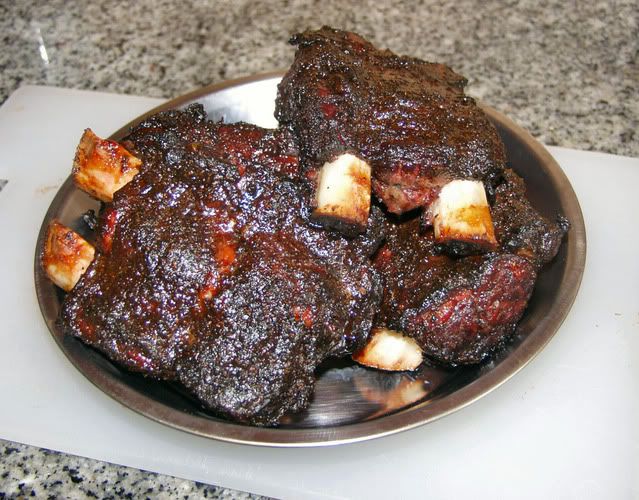 I did hit them with a little of my home made sauce/glaze and the ribs were served with that glaze and some sauce on the side. This was a maple/Worcestershire sauce/cider vinegar base with some sugars added in. I prefer a thin slightly acidic sauce with beef ribs, as it cuts the fat a bit. They seemed to be a hit.