Sunday found me at my friend Rob's house, firing up his 26" kettle to get some ribs on. We manage to get together like this from time to time, just to dial back the intensity and keep our hand in the smoking world. In this case, we would end up smoking 9 racks of St. Louis-style racks, and a random Wagyu Tri-tip that found it's way into our shopping basket, when we were supposed to be buying some Swiss Chard. I decided to throw down with a few things that I have not discussed with anyone before, a maple sugar rub, a smoked paprika rub and a gastrique-based BBQ sauce. Some of the basics...
Maple Sugar Rub:
60ml medium grind black pepper
40 ml kosher salt
40 ml maple sugar
20 ml harissa powder
7 ml fresh ground nutmeg
5ml powdered mustard
Combine all ingredients into a shaker. It is best to make this rub just before use. Any time storing it and the maple flavor takes over.
Smoke Paprika Rub:
80 ml medum grind black pepper
60 ml kosher salt
20 ml dry palm sugar
20 ml dried brown sugar
25 ml harissa powder
30 ml bourbon smoked sweet Spanish paprika
5ml each fresh ground nutmeg, ground allspice
Combine all ingredients into a shaker. The smoked paprika is nice, but, what is important is that it is fresh Spanish Sweet Paprika.
Bourbon Peach 'Gastrique' Sauce:
12 ounces peach nectar or juice
12 ounces cider vinegar
2 tablespoons rub (a simple run is fine, it could be salt and pepper)
2-3 ounces (weight) of smoked, barky, meat (I use brisket trimmings)
3 tablespoons of olive oil, rendered bacon lard or other oil
3 tablespoons chopped onion
8-12 ounces pan dripping from kettle
1 teaspoon Red Boat fish sauce
bourbon until it tastes right
1. Make the gastrique. Combine the vinegar, peach nectar, 1T of the rub and the barky meat in a sauce pan and simmer to reduce to 6 ounces total volume.
2. Add chopped onions, oil and pan drippings, simmer to reduce to 12 to 15 ounces.
3. Strain and return to sauce pan, add fish sauce and heat until smell of fish sauce is dissipated.
4. Add bourbon while sauce is simmering, keep adding and reducing through simmer until taste if correct.
5. Makes about 12 ounces of sauce. Note that this sauce is on the thin side, it is not meant to be a covering sauce.
The ribs were cut and trimmed to be St. Louis-style racks. The trimmings and such were also cooked and snacked on. The kettle was settled in at 285F or so. Cooking fuel was lump and natural briquettes, wood was red oak and apple.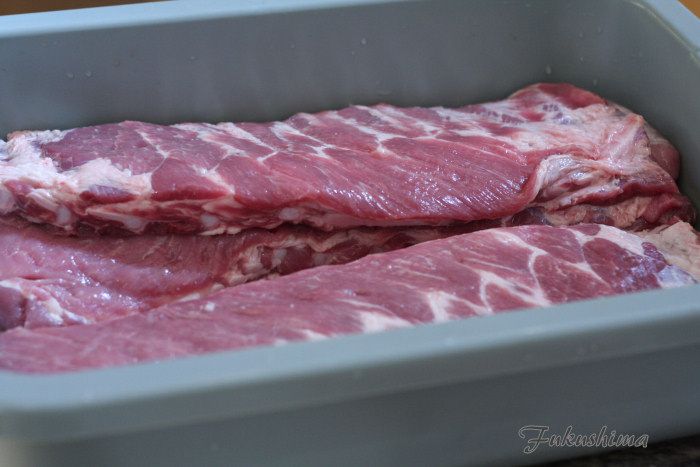 Half of the racks
foreground-Paprika rubbed, background-Maple rubbed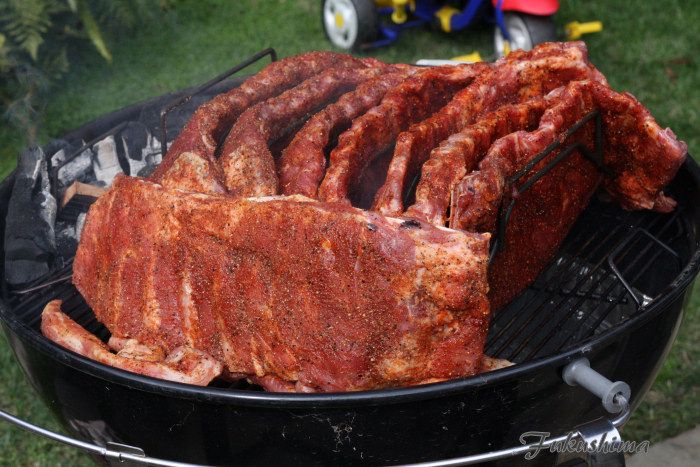 Not the proper way to load a kettle
There was some crowding on the 26" kettle, it required some extra moving of ribs through the cook, handling partially cooked ribs without gloves, yay, not. Incidentally, for those who love to fuss, Rob and I took off for lunch, and left the kettle to run unattended except for one check by phone. We asked Rob's wife to give us a report after about 40 minutes. After we returned, I shuffled ribs, then our friend Michael arrived, so we took off to go shopping, so the kettle was left unattended. Upon our return, a Wagyu tri-tip had been procured. It was so nice looking, so it was added to the kettle.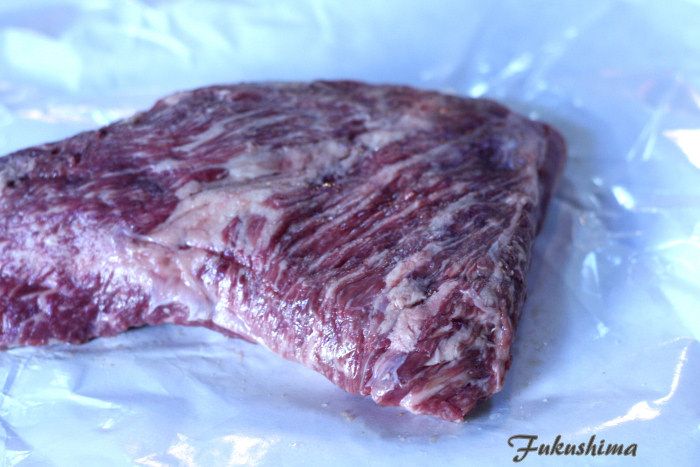 Wagyu Tri-tip, marbled
Since the kettle was going I decided to just throw this baby on top of the coal stack. Yes, I just went for it. And it was fine. I did find out that Wagyu tri-tip behaves differently than my usual Choice and Angus tri-tips, it came up very slowly to 110F, then seemed to just jump to 130F in seconds. Next time, I will know. This learning curve did not cost us at the table though, as the next images will show.
Hmm, looks okay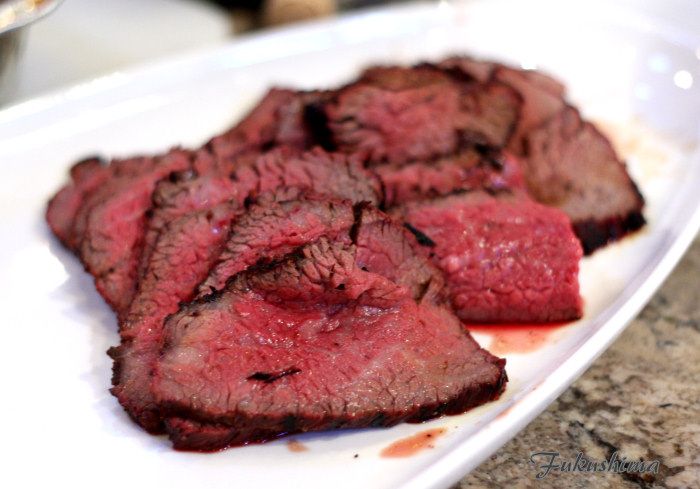 Yep, that will work
And back to the ribs, which we cooked using our technique of benign neglect, this is what we ended up with.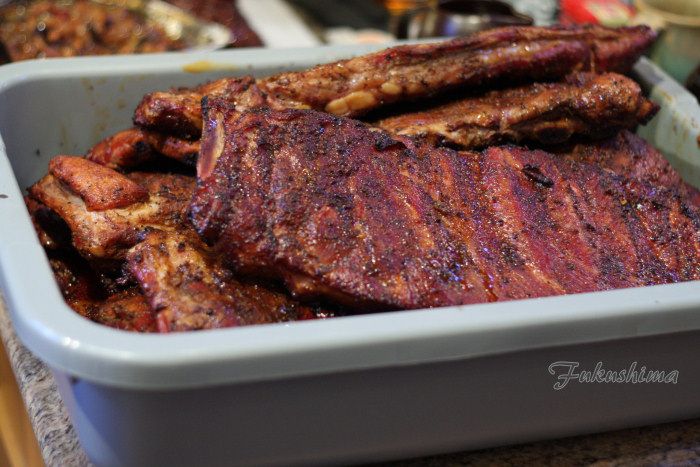 Too much meat? Noooo...
I think nine racks and a tri-tip are just fine for 6 adults. These looked pretty fine sitting there. And for those that care, no foil, no wrapping, no spritzing, heck, I spend at least 3 hours of the cook more than 5 miles away from the pit.
I really like the top rack in this shot, perfect in every way
This was also a meet and great as there was a BBQ Brethren in town, Jeff Jenkins was in from Ohio, so we had him swing by for some ale and BBQ. The beer of the table was from Almanac Brewing, a seasonal fennel ale that was the right thing for the ribs and tri-tip.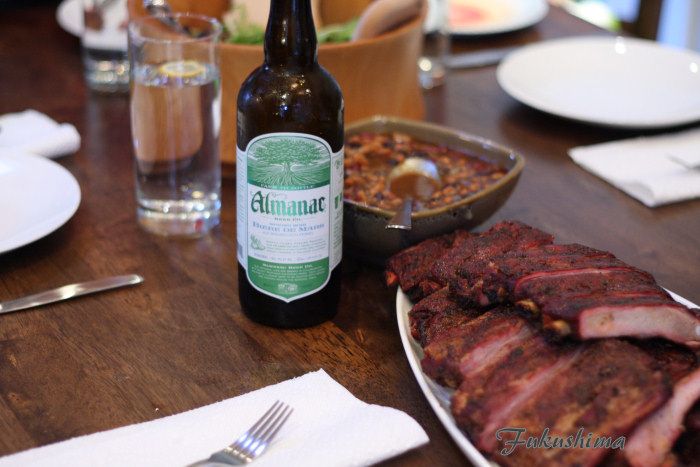 The Tableau
This meal did not suck, several other Belgians died that afternoon, so we were all happy campers by the end of the meal. The beans were a riff on the beans made by Paul Height from No Excuses BBQ, cooked under the ribs. There was a great salad as well, a nothing fancy meal of BBQ and ale.