It comes to the end of the season that I can get reliable, organic, field grown tomatoes from local sources, and I wanted to send out the last of the decent tomatoes with a fitting meal. That would be the ultimate use of a good tomato, the BLT. But, wanted to dress up the sandwich a little, so I bought some bacon and made Pig Candy.
For those not familiar with Pig Candy, it is simply bacon that is coated with spices and sugar, sometimes some chopped nuts, and then smoked or roasted until the sugar caramelizes and the bacon crisps up. I used an uncured bacon product (less sodium), thin cut and figured three slices would do for each sandwich. I wiped a little maple syrup onto the bacon, then a light coating of cinnamon, allspice, nutmeg, chile de arbol powder and a little brown sugar. I prefer a more savory and less sugared version of Pig Candy than most folks, I really want the bacon to shine with the sugar just behind it.
Green Leaf Lettuce, Pig Candy, Tomatoes
This was piled onto a couple or warmed slices of Rudi's Soft White, which is not really soft, or really white either, as they are an organic bakery that uses whole grain normally. I just could not bring myself to buy the Wonder Bread.A swipe of two of mayonnaise on the bread and assembly, simple as making a sandwich.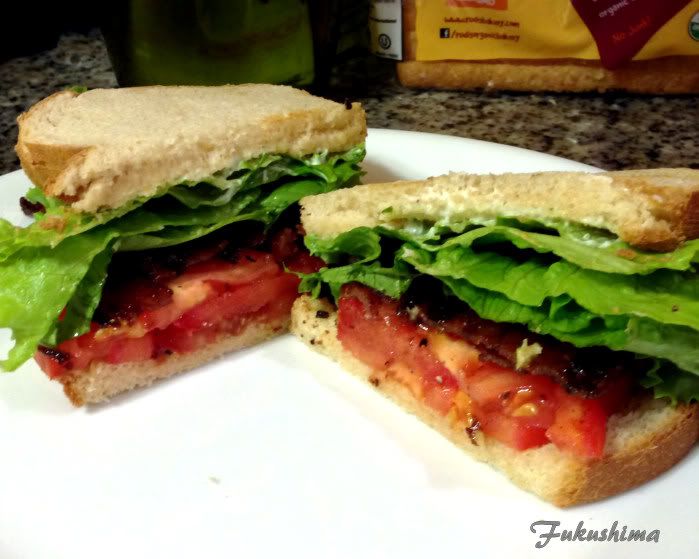 The Sandwich
I am gonna miss fresh tomatoes that do not have a skin like vinyl and a core made of balsa wood. Winter is the time for canned tomatoes anyways. I would like to say I only ate one, that would be lying. The Pig Candy provided the textural and fatty character of bacon, along with a nice sweetness and spice that added to the sandwich nicely. I won't do this often, but, it was a nice upgrade.