Today was the day to use up a couple of things in the refrigerator, namely some leftover smoked pork loin and some kale salad. I also had some red fingerling potatoes that needed to be used. I also found some chicken wings that had been smoked. These would make a great base for the stock I wanted to incorporate.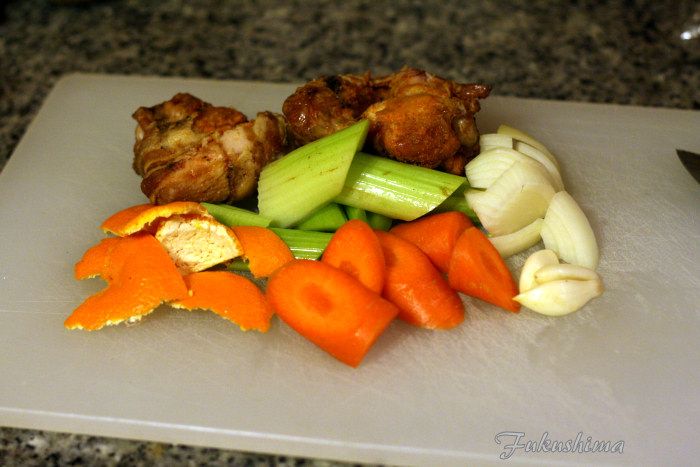 Aromatics and chicken wings
So, into a pot went some onions, celery, garlic, mandarin peels and the chicken wings. Covered with water and seasoned with a couple of pinches of sea salt, a piece of konbu, a star anise, 6 peppercorns and 4 whole cloves. These were covered with water and simmered for 2 hours. Then the broth the was strained of the solids, then filtered to clear the broth. I use coffee filters for this. The stock was then reduced from roughly 1.5 cups of stock, a splash of white port and black currant Balsamic vinegar, which was reduced to 1/2 cup. This would be the glaze.
The potatoes were roasted with onions, celery and garlic until tender. The potatoes were cooled and sliced, then tossed into a hot pan to sear. Then the kale was tossed on top to wilt. A little kosher salt and fresh ground pepper, to season. It is important to remove some of the larger stalks of the kale, as they remain a little tough when you are just wilting the kale.
Plated and Drizzled
The pork was left over from earlier, on the weekend. It was smoked at Phat Matts. It originally had bacon in it, but, that was not going to work. So, I removed the bacon, seared the outside in the hot pan with a little oil from the potatoes. Then I sliced it, and seared the slices. From there, everything was tossed onto the plate and the meat was drizzled with the reduction.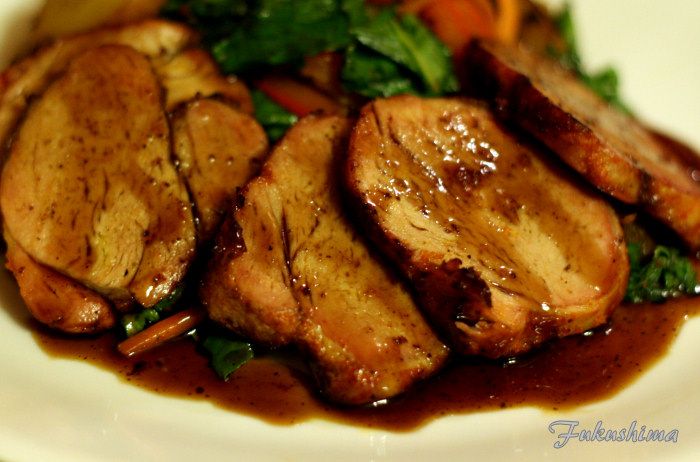 Meat Texture
And the texture of the meat held up well to reheating, it remained tender. The reduction nicely complemented the smoked pork as well as the kale. It was lightly sweet with a bitter counter-point from the mandarin peels.