One of the great things about food, there are always new ideas coming out of incredibly creative minds. The owners of Mission Chinese Food are one such pair of new chefs bringing an impressive take on Chinese food. They are taking the traditions of Chinese food, mixing it with a healthy dose of fresh and local and just a little BBQ to create an entirely new cuisine.
I have the chance to visit the restaurant with my friends Rob and Brian, Rob is on a quest to find the best and most interesting foods redefining the culinary scene in the Bay Area, including his work for Red Boat Fish Sauce. Brian is one of those guys with a great job, pushing the shutter button on food in some of the most interesting restaurants in the Bay Area. I am lucky just to draft along for the grub. Today, this meant some amazing food.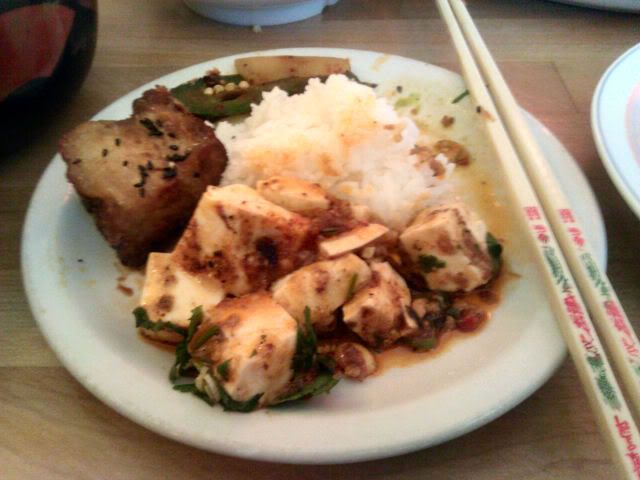 One of the amazing things of each dish that we had, was that each one had a distinct profile of tastes, textures and aromas. This is not food to be wolfed down with gobs of rice, or drowned is soy sauce. The addition of smoking, and you have an amazing blend of new and old. My old standby of ma po tofu gets gets a whole new riff, loaded with chiles, chile oil and soft tofu, this dish seemed to be crazy coming to the table, the aroma and looks telling of pure fire, except, each flavor from the sweet tofu to the fiery chiles are distinct and roll thorough the palate. This would be the theme throughout the meal, each plate distinct, each flavor clearly defined and balanced. The Ma Po Tofu has gotten it's share of press, but, this is not the only story.
We had a plate with smoked crispy pork belly, fun noodle and a soy cured egg. The egg was perfectly cook with a custardy center and filled with the flavor of egg. The pork belly was crispy and amazingly rich and tasty. The fun noodle was perfectly cooked and a great foil for all the intensity of the pork belly.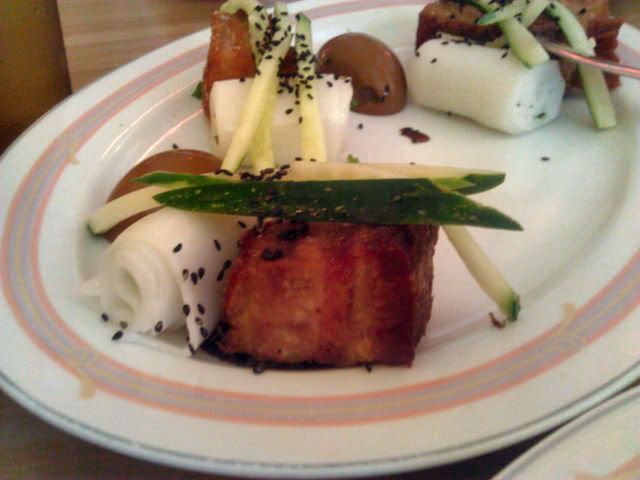 The other incredible dish, amongst a table of incredible dishes, was a smoked corned beef, redolent of smoke and jalapeno, yet a playful take on corned beef, as the slices of potatoes really play off the flavors of cured beef and the peppers. This was an example of how the owner's are taking bits of their own experience and adding it into their own culinary experience.
Then finally, the one dish that I look for everytime a place tells me they are doing Sichuan, lamb. Yes, lamb, the first time I had this was nearly 30 years ago, when I learned that lamb is a very common and prized dish. This was an excellent version of cumin scented lamb, with a crispy edge and lots of aromatics. The adjacent table ordered it just as I arrived and you could smell the room aroma change as it came nearer.