Well, the move of my cookers is complete and the two test runs has resulted in the smoke not drifting into my neighbors house. I hope this continues, as obviously I do not want to be a nuisance to the older gent living next door. I did have to do a couple of burn-outs to get the kettle and UDS smelling sweet, letting smokers sit can leave a sour aroma that will taint food. Since they are now good to go, time to cook.
The Tri-Tip:
I decided a nice short cook was in order and tri-tip is always the right answer. Two nice Harris Ranch tri-tips (no-roll, which is to say un-graded, as is the norm for Harris Ranch) were trimmed up and washed. I tend to wash my meat, what can I say, old habits...
Nice Tri-tips ready to go
From here, the rub was prepared, it is somewhat similar to a Santa Maria style of rub, you can see it is pepper and salt heavy, with additions of fine ground herb mix, chile powder, powdered lime, and granulated onion/garlic, all mixed up. I ended up adding just a little fine grind Turbinado sugar, about 1/16 of a teaspoon. This is on a dessert plate, and most of this was used.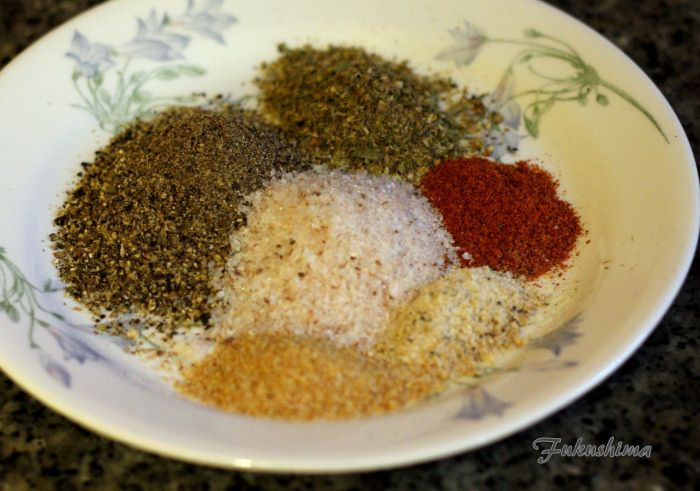 I applied the rub twice, a heavy coating which was then wrapped in butcher paper and placed in the refrigerator for one hour. This allows the rub to melt into the meat. During this process, the sugar and salt aids in the drawing of proteins to the surface of the meat. You can see why in this next photo.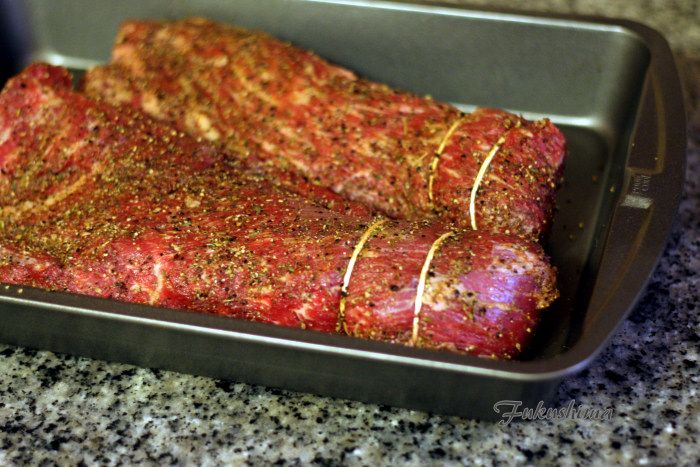 You can see a couple of things in the above photo, one is that I tied the tail of the tri-tip back, this aids in not burning the long tail of the tri-tip. You can also see the color and sheen, that is the formation of a pellicle, I seek to get this on all of my cooks, I believe it aids in moisture and surface texture. From here, there was a little extra rub applied. Here they are on the cooker.
Yeah, yeah, white balance, blah, blah
The Slaw:
I wanted to have a nice vegetable component to the slider, I know, not traditional, if you have been following my cooks, you don't even expect that anymore. The slaw was a simple affair, hand cut cabbage, red bell pepper, carrots and green onions. These were salted for 15 minutes and then thoroughly washed and spun dry. The salting removes excess moisture and makes for a better texture. This step will prevent the slaw from getting watery when stored, a very traditional Japanese technique for a quick pickle. I dressed this with a vinaigrette. Simple affair, the vinaigrette was a very high quality olive oil, cider vinegar, prepared mustard, agave syrup and hot sauce (I used Lucky Dog, Red Label, which I consider to be the best hot sauce out there). Essentially, 2 tablespoons of the olive oil, cider vinegar and agave syrup, a squirt of mustard and a dash of the hot sauce (it isn't there for heat, it is there for easy complexity).
All about the slaw color
The Sliced Meat:
I splurged this month and bought a new slicing knife for myself, this has been a gap in my knife collection for some time now, a good large slicer for roasts and brisket. I addressed this with a Wusthof Custom that is exclusive to the Mid-Atlantic Barbeque Association. Love this knife. Here you can see that the sliced tri-tip was cooked perfectly to a medium rare. I have no idea what internal temperature was, as I cooked it pretty much by feel.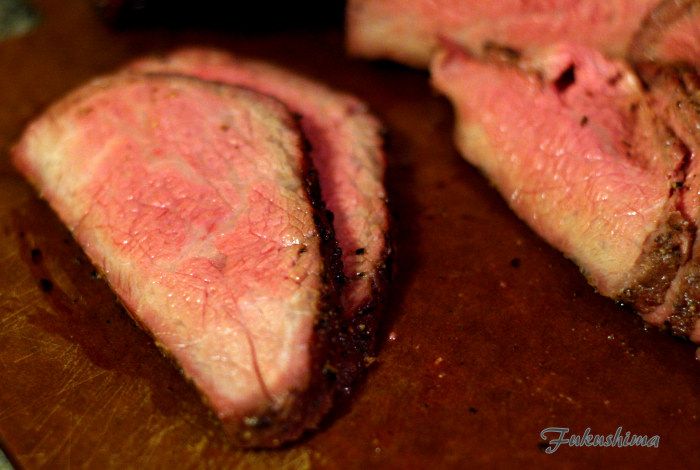 Look at those clean slice and thin!
The thicker slices were needed to test the slicer for brisket, I ended up testing those slices, melting tender texture. The thinner slices were hand cut, without a carving fork, just a quick push and pull, the slices came so nice and even. I will end up messing with this knife edge, adding a little more polish to the edge, but, the feel, heft, balance, and cut, perfect knife. On to the sandwiches then...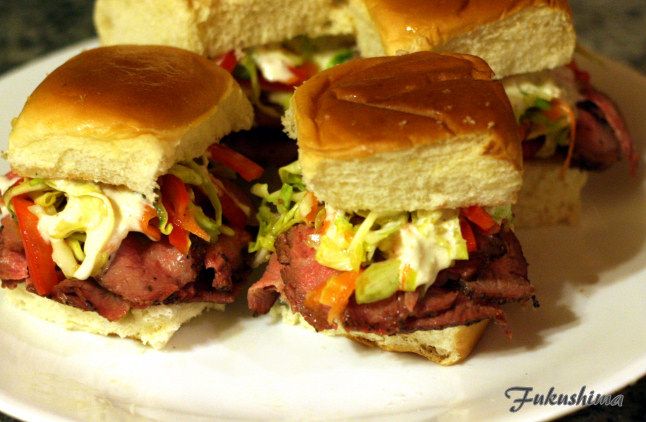 As you can see, the buns were actually King's Hawaiian Rolls, nice, soft and a little sweet. These make a nice complement to the smoke and slight pepper bite that the rub brought to the sandwich.
You can see a hint of the horseradish mayo I ended up drizzling over the sandwich to finish them. It was simply 2 teaspoons of mayonnaise and horseradish, a teaspoon of cider vinegar and some black pepper and dry mustard whisked together to taste. These were really quite good, a strong showing out of my old neglected (no more) kettle.
Oh, one last thing...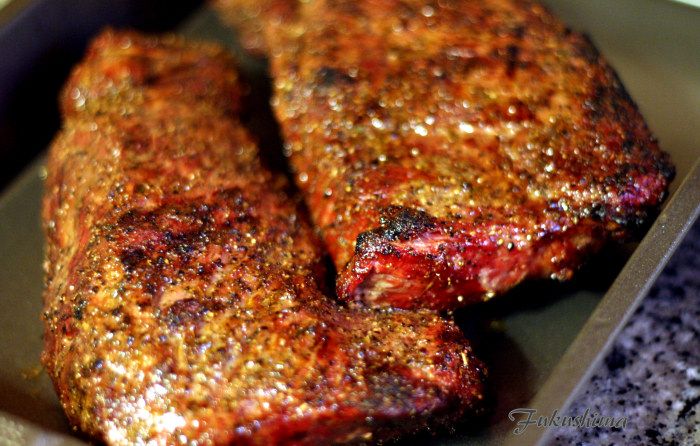 Gratuitous Photo of tri-tip
Well. I had the photo and wanted to use it. Some details, the kettle was brought up to 350F to complete the burn-out. Once it smelled sweet, I shut the vents down, top and bottom to bring the temperature down to 255F, from here, the meat was added. I cook indirect, at this temperature for 45 minutes. When I feel it, I am feeling for easy give, the meat should feel soft, like pressing into a Jello cup. I spread the coals and let the meat color up a bit. Total cook time is around 1 hour, and the heat is never higher than 255F or so.
What, you say, that isn't Santa Maria? Well, not if you learned to cook Santa Maria in the last 30 years, no it isn't. This technique is designed to mimic the old ways on a kettle. If you haven't tried it, you do not know just how good a tri-tip or for that matter, a rib roast can be.