Well, for Christmas this year, we went to our reliable neighborhood butcher and she informed us that she did not order the prime ribs that we had just expected her to order. We have tended towards only buying beef that is certified as vegetarian fed without anti-biotics, the butcher had made the decision that the more expensive beef was not a good buy. So, we had to improvise. There were some excellent looking natural fed tri-tips and baby back ribs Tri-tips and ribs it was.
They would be cooked at the same time, on my brother's un-modified Weber and without my usual array of tools and thermometers. No matter, after a 1 hour batlle, I finally got the kettle dialed, 231F and it held it for 5 hours. It is, for the record, no longer un-modified, though bro' doesn't know that.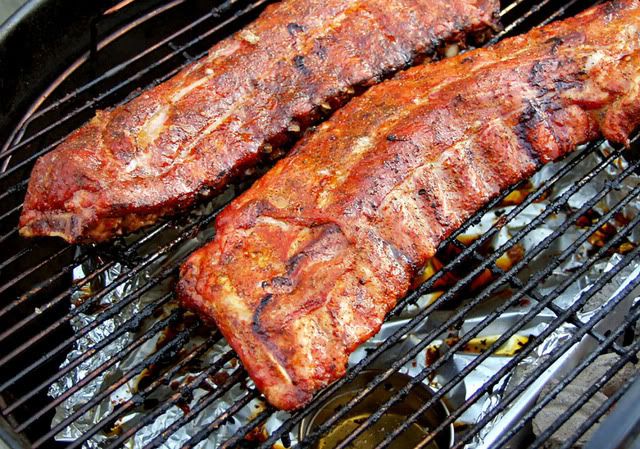 Here are the dry ribs, as you can see, I have been considering the use of more medium textured rubs. In part, this is because of some new rubs I have been using. In this case, I used Plowboy's rubs for a base and then a coarse salt/pepper/garlic granule rub for a second layer. This multi-layer technique from a fellow Brethren in Texas has become a favorite technique of late. The tri-tip and the ribs came out perfect for Christmas.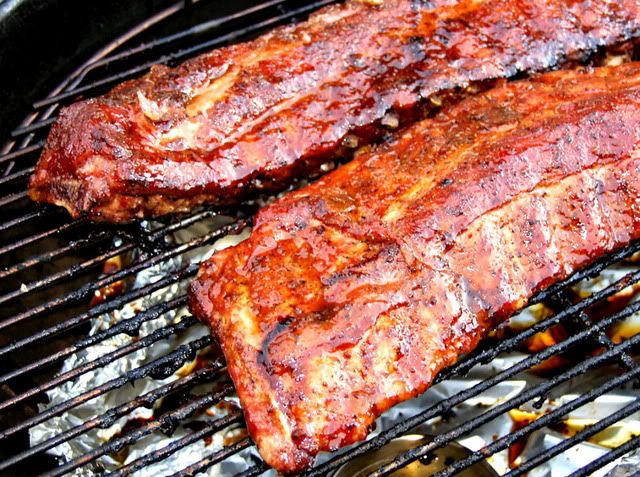 The parting shot is the ribs with the rum/cherry glaze.