Today I made dinner consisting of a Korean staple that has been created by a Japanese cook working in an Izakaya (essentially a Japanese gastro-pub) in New York. The essence of this dish is the play between the spicy kim chi and the sweetness of pork. There had to be pork, I assume you knew that. I don't really know the name of the dish. Here are the basic ingredients...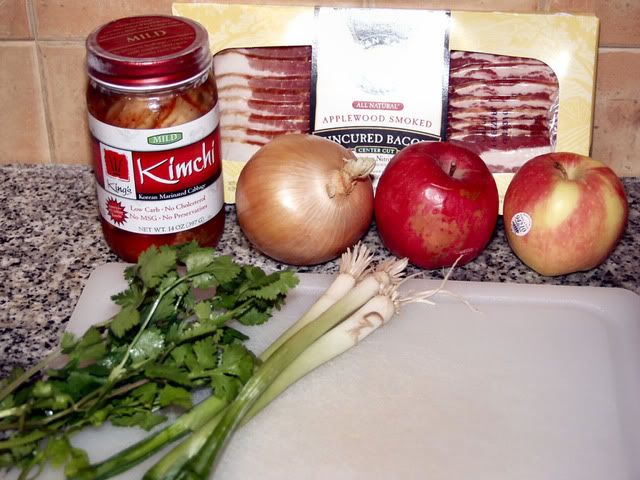 The apples were actually used for making braised apples with sherry reduction for the side dish. The bacon was fried until crisp, the fat reserved and used to fry the onions, scallions and kim chi. It is better with pork belly, but, that was not available to me this time. Once the veggies are sauteed the bacon is chopped and added, then a sauce consisting of 1.5 tablespoons of shoyu, 1 teaspoon of Mirin (sweet rice wine) and 1/2 teaspoon of sesame oil is tossed into the veggie/bacon mix, toss with cilantro leaves and scallion tops just before removing from heat.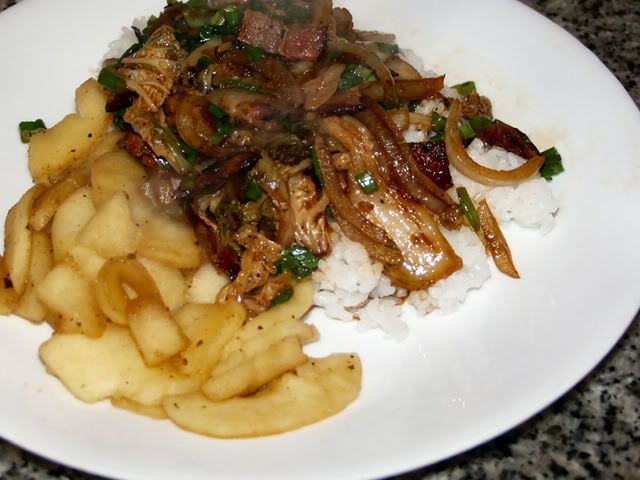 I found this brand of Kim Chi too mild for my taste, if I use it again, I will buy the hot version. I tend to be cautious when buying a new brand of kim chi as I have been surprised by how hot some have been. Dinner was finished with a home baked scone and some apple butter I received from a BBQ Brethren in a sauce and rub trade. McCutcheon's Apple Butter, good stuff.