One of the things I always wonder about is just how good are those chefs you see on television. One of the shows that has really pushed chefs to the fore has been Iron Chef. One of the chefs, Masaharu Morimoto has had quite a lot of success in the United States with most of his success coming in New York. Recently, he opened an outpost in Napa, California and my opportunity to try is food was finally afoot.
Now, the reality of these globe trotting chefs is that you are not paying for the food prepared by the hands of Morimoto, what you are paying for is his inspiration, knowledge and guidance in the creation of the menu and the training of the staff. At it's best, you will have the best of that input, at it's worst, the chef has simply sold his name to a venture. I was hoping for the best.
Upon entering the restaurant, you are greeted by a nice lobby and waiting area. As you walk to the end of the lounge, you see some cases, presumably for takeaway foods, although none were apparent. What was apparent was that you could look down the entire cold prep area of the kitchen. As you walk to the dining area, you walk past the hot line and into the sushi area. Incredible for a restaurant, the kitchen is quite transparent to the clientele.
I think it is quite confidence inspiring that the restaurant feel it can show off it's kitchen and staff to all of the customers. Naturally, the sushi area is a show place, with fresh fish on display and incredibly focused staff working away on sushi, sashimi and fish preparation. When asked, the entire staff was engaging and helpful in explaining what they were doing. The sushi was very well done. Here is the sample that came with the lunch set.
You can't quite see the shine that as on the fish. As any of you who really enjoy sushi and sashimi would know, a truly fresh and well cut piece of fish will have a rainbow glisten to the flesh, this was apparent on each piece of fish presented. Yes, the wasabi is fresh ground, the ginger appears house made. Truly impressive technique and attention to quality was apparent.
Although and entire menu of sushi, sashimi and individual cooked dishes were available, I wanted a sampler of what they were doing. This meant a lunch set. A common term amongst Japanese restaurants is to refer to combination lunches as 'sets'. I chose the crispy tofu set, m dining companions chose the grilled black cod set and the beef teriyaki set. Here they are.
Each set was nicely plated and was accompanied by a few pieces of sushi, either a soup or salad and some tempura vegetables. The soup was amonst the best misoshiro I have ever had, it am certain it had been fortified by tonkotsu, or the most incredible miso I have ever tasted. The salad has an intense flavor and was delicious. The beef was tender and the black cod very nearly perfect in preparation with the fish just past translucent. Take a look at this little hunk of fish...
The curry was interesting, very typical of Japanese style curry, it was mild with sweet undertones, the difference was that there were slices of jalapeno that must have been added late in the cooking process, so each bite offered differing levels of spice. A nice touch to allow for different flavors to shine through. I also had a plate of gyoza, which is one of those bellwether dishes for me. Does a restaurant care enough to serve something simple, yet fussy enough, to require some care. Well, this was the only odd step for me. The presentation was different and the elements were quite good. A bacon foam, a typically sweet tomato puree (Japanese preferences are for sweet pink tomatoes) and a tuille of potato starch atop the gyoza were all excellent. The tuille of potato starch was like the most delicate potato chip you have ever had. The gyoza skin was nice, with a good tooth and flavor, but, the filling seemed a little plain and almost seemed like just ground up pork. A miss for me there. Here is the plating though.
Then there was the dessert, ice cream sandwiches and Japanese donuts with a variety of dipping condiments. The ice cream sandwiches were quite good, with clean and distinct flavors. The donuts were beautifully friend, with lavender honey, Japanese molasses and a variety of sugars such as green tea sugar, kinako sugar and a few I can't remember. All were delicious.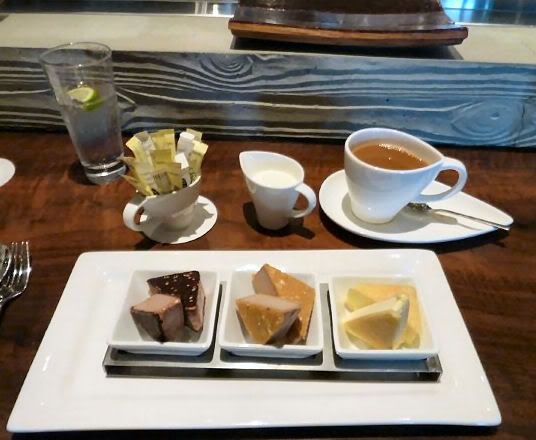 One of the things I note in any food prepared or inspired by world class chefs is a purity of flavors. This food was no different, each dish represented a particular combination of ingredients and flavors that rang true through each bite. I love food that presents a variety of flavors such that each bite changes subtly thus assuring the palate is always changing. I found that this was the case with the curry as well as the tempura side, which featured a somewhat typical selection of vegetables, but, in a unique tempura coating with a wasabi infused aioli sauce. Ingredient driven food with beautiful technique presented in a wonderful environment. The wait staff was perfect for the setting, casual enough, yet somehow showing up just when needed. This kind of food does not come cheap, and is a once in a great while experience for someone like me. But, if you have a passion for food, a highly recommend a nosh or two from a world class chef inspired restaurant. Ah, one final plating, as we left, this was placed out for service...
All photos courtesy of John McGee.