This past weekend, I got to visit an old project I worked on years ago in Benicia, California. Back in 1993, the firm I worked for got hired to administer and be the on-site representative for a project that would eventually become the Benicia Community Park. While the design landscape architect was another firm, I was on site daily to insure that the City's interests were protected. To that degree, I had the influence on several occasions to affect design of some site elements. One of the elements that required some 'site engineering' were these cooking grills. I made some 'tweeks' to make sure these units would last, were more functional and easily maintained. It was good to see that after 18 years of use, they function as well now as they did when new.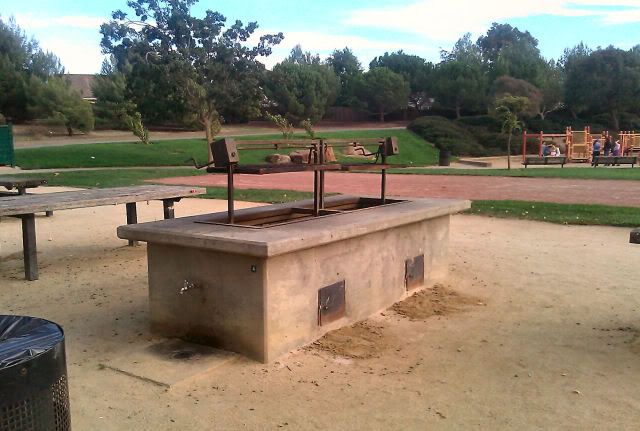 There are four of these units, each with the capacity to cook very large meals. The grates easily adjust up and down and will hold their adjustments perfectly. The actual mechanisms were designed and manufactured by a now defunct local company, what a great product that guy was making. I posted this at the BBQ Brethren forum and someone made a comment about all of the good food and good times shared around these. I am sure there have been many. But, this put in my mind, at this partucluar intesection of my two passions, cooking and landscape architecture, why I am still, after 30 years, passionate about what I do for a living. I have designed and worked on multi-million dollar residential estates, fabulous corporate campuses and some very interesting one-off buildings. But, my passion has always been park, school and playground design.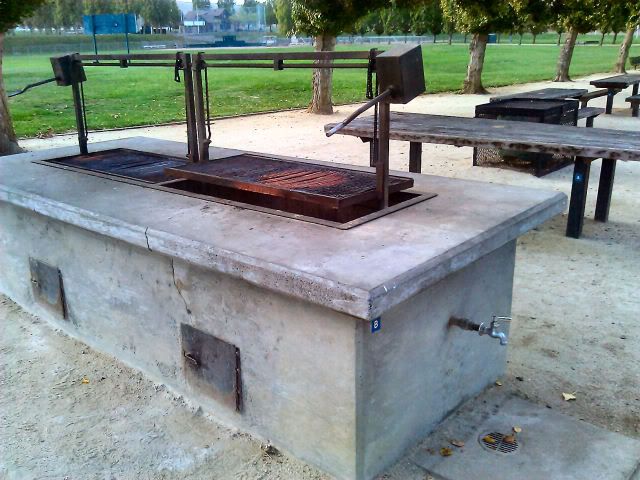 As cool as these grills are, and as cool as all the food I have cooked, and as much as I love when folks tell me that they love my food, it all pales to when I walk onto a park I worked on or designed and I see a dozen kids playing and laughing.
In fact, far beyond the food from these pits and all of the families that might have enjoyed them. I am a landscape architect whose passion has been designing parks, playgrounds and ballfields for public use. I have hated nearly every fabulous corporate campus or high end residential as a necessary evil to satisfy my need for earning a living. But, when I work on a park project, I know that for the next 20 to 30 years, and maybe even more, thousands of children will pass through each of them, laughing and playing, maybe making their first team, scoring their first goal or maybe just getting away from a real world that holds nothing but sadness for them.
I was recently asked why I have no passion for the 'art' of landscape architecture and I gave a useless answer. But, in truth, I have little use for the high end of design just for the sake of art, I am happy to leave that to other people. I have done probably close to 250 parks, schools and playgrounds over the last 30 years, multiply that by even just a 1000 kids per park (and that is probably a very low number) and I have fed the soul and joy of over a 300,000 children and they have fed my soul back everytime I go to any park and think about it all.
Yeah, I like these grills and they are terrific to cook on, but, they are all about fun for me. They are just a small part of a larger whole that has meant far more to me. When I took these photos, my nephew was with me, he wasn't even born when I did this work. He was quite taken and my nephew thought the whole park, especially the baseball fields, were amazing. My work never fails to enrich me in ways money has never done.
My name is Bob, I am a landscape architect and I make places were children laugh and play.