As a fine beer drinker, I really enjoy many different expressions of the brewing craft. Unfortunately, I am not always able to buy beer in bottles that are appropriate for me to enjoy alone. Problem! But, every once in a while, the chance to enjoy beer with family or friends arises, the holidays are just such an occasion. Here is the weeks selection I will be trying.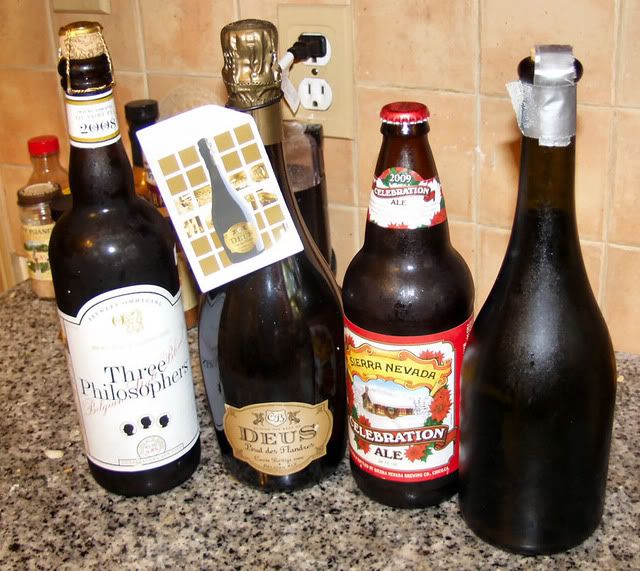 The Brewery Ommegang Three Philosophers is a blend of strong ale and cherry lambic some have described as Liquid Chocolate Cherry Cordials. The Deus is a Flanders ale that is aged in France using the Methode Champenoise. Some consider this to be the finest ale in the world. I am just hoping it is close. The Celebration Ale from Sierra Nevada, I have been drinking this beer since they first brewed it.
And on to that gracefully unmarked, duct tape sealed bottle on the end. That is a bottle, the last large format bottle, of my chocolate milk stout brewed almost a year ago. Brewed with Scharffenberger chocolate and cocoa and a nice backbone of Cascade hops, this turned out to be a nice Imperial stout when first brewed and drank beautifully all year. However, with the higher alcohol content and strong flavors, I have been aging this one, 6 months at 70F and 6 months in the refirgerator, to see how the flavors blend and the alcohol integrates into the ale. If I had used a champagne bottle, instead of recycling a Turley Zinfandel bottle, I could have used a cage, hopefully the duct tape is not a problem for the ale.