Today was a day to try an experiment with cooking some ribs as simply as possible while still turning out some good food. The kettle was started with half a starter of Kingsford, the coal holder was setup with about the same of K and some dregs of lump. The ribs got medium grind black pepper and kosher salt. The ribs were put in once the light blue smoke started wafting, 225F, 4.5 hours, rain and this is what I got.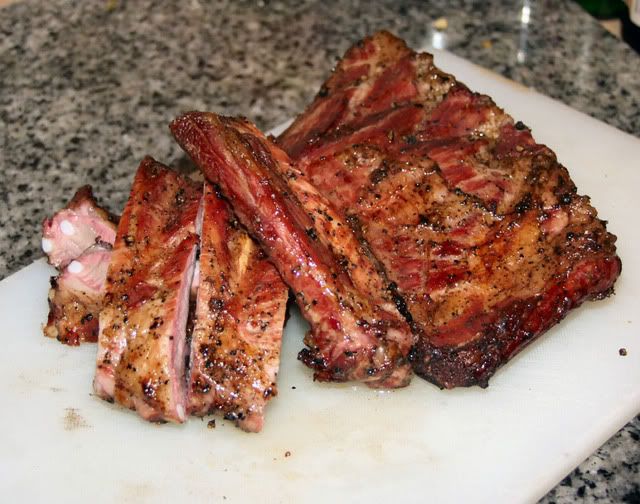 I was very happy with the overall appearance and texture of the surface of the ribs, the meat was cooked to a very tender texture while pulling not quite cleanly from the bone. There was a distinct smoke ring, a light smoky flavor and the flavor of the meat was clean and porky. Here is a rather over-exposed shot of the cut rib showing the meat.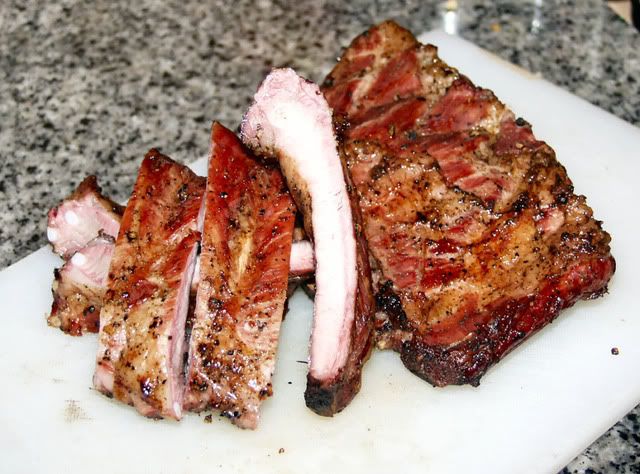 As a reference point, I was very pleased to see and taste how nicely these ribs turned out. I will still prefer the use of rubs with more intense and complex flavors, but, as a reference point, this was worth the effort. I think from this point, I may introduce the rub in much smaller amounts, with the use of invert sugars, to see if I can maintain the light golden color and thin delicate surface texture that these ribs had.