Tonight, the idea was to test out a new super-secret pecan rub from a friend that is looking to bring a new product to market. Test subjects were to be some center cut, bone in pork chops. I gave them a rub with the new rub, wrapped them uptight for 3 hours, resting in the refrigerator. Here they are just before I hit them with a second layer of rub.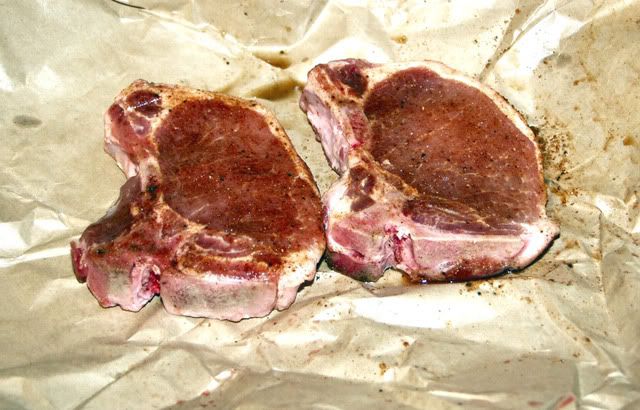 I do this is the belief that it gives me a little better penetration of the rubs flavor into the meat. Fired up the kettle, running at 300F, using Kingsford briqs and some hunks of cherry wood. The pork chops hit the grill and ran for 1 hour, until done to touch. Here is the next shot.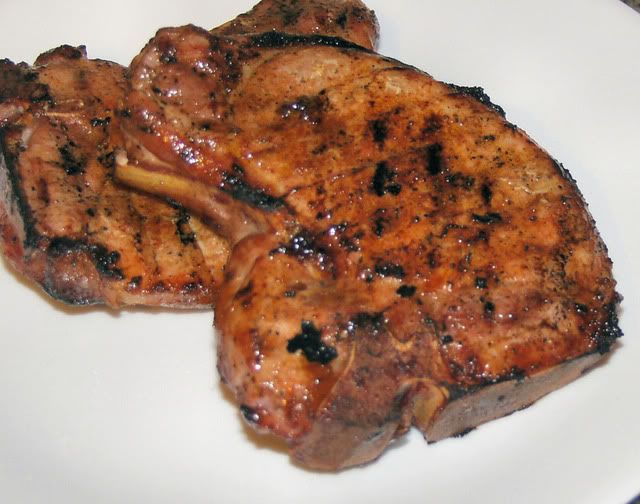 These were excellent looking, the rub being influential, I believe, in the golden brown color. The one I ate for dinner was excellent with a nice sweet edge, you could smell the pecan both before and after cooking. The meat was juicy and, sadly, not properly photographed. I really enjoyed this combination, however, I need to get over to my friends place with all the pecan prunings.