It's Friday so it must be steak night. A Naturewell Ribeye done very, very, hot and fast over Jack Daniels oak and briquettes, some sauteed spinach and steamed short grained brown rice.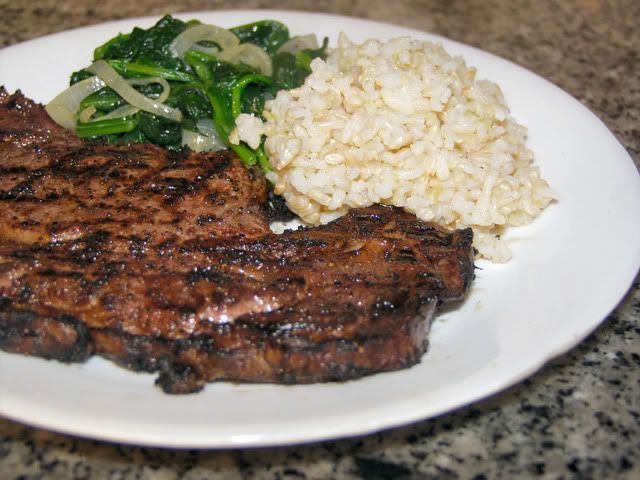 The steak was rubbed with my medium grained rub that I am starting to refer to as a 'Top Rub' as I use it on almost all of the BBQ meats that I now cook. It has become a finishing spice for many meats that I grill as well. I borrowed the concept from a fellow Brethren who calls his rub Dirty Dalamation. When I prepare a meat for putting on the smoker, I will use a low salt or no salt rub that contains the sugars, chile powders and herbs that I intend to flavor with. Then I apply a light to medium later of this run as the 'Top Rub' about 1/2 hour prior to cooking.
And the whole mess was accompanied by a glass of root beer ale, a homebrew from late last year that is now gone.
Top Rub Recipe: In parts.
2 parts Kosher Salt (I really like Redmond Real Kosher Salt)
4 parts medium grind black pepper, no powder or fines.
1 part granulated garlic
1 part dried orange peel (or if making fresh, use orange zest)
Mix and apply. I prefer a light to medium coating on most large cuts of meat and definitely a light coat on ribs, cutlets and steaks.