Well, as I mentioned in a previous post, Larry of the BBQ Grail blog and mini-webmpire and I happened onto Phat Matt's a short time ago and had an excellent lunch. During that time, two things were mentioned, one of which was sampled. One was that they feature a weekly special and the other was the peach cobbler. Well, I had to go back, as the sample of the cobbler was addictive.
The cobbler is an interesting riff on the old peaches on biscuits cobbler in that it also offers a crunchy topping over the peaches and dougn, just enough of an additional texture to really make it sing. This photo does not do the flavor justice.
And the bacon-wrapped pork loin, with an excellent tender texture and perfect flavoring. I like the idea of a weekly special and this sandwich was terrific. Further, there was plenty of meat for a very reasonable price. As you can see, there is plenty of meat on a simple bun. Nothing fancy, as BBQ sandwiches should require nothing fancy, it is all about the meat, and there was plenty of that.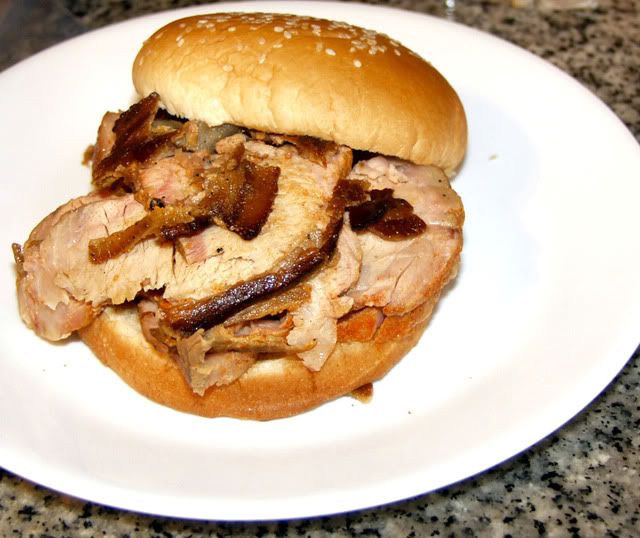 BBQ Grail, you were missed, although the food salved that just fine. Phat Matt's says hi.