I made truffles...chocolate truffles...with cognac...see? They were made with a mix of Guittard couverture and chips, and some of thier single origin chocolates for coating. The other ingredients were heavy cream and VSOP cognac, it is a very simple if messy affair. Here are the ingredients.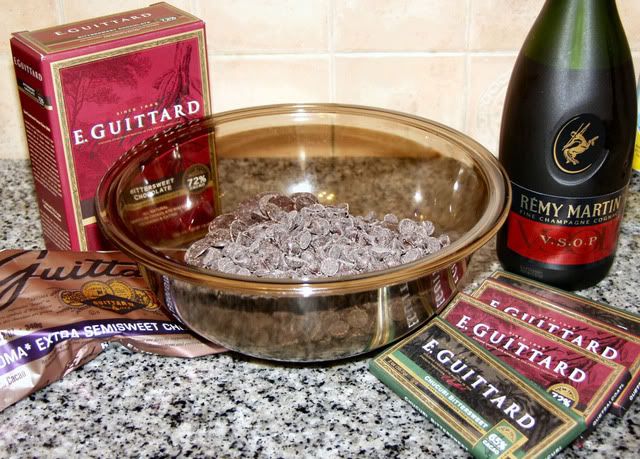 The chocolate for the filling is slowly melted by the hot cream/cognac mixture. This time I flamed the cognac to remove some of the alcohol, this does affect the flavor and sensation of the cognac. Although I find the flavor to be more subtle, it is still a very good chocolate ganche. I prefer the ganache for truffle centers to the more traditional and firm butter and cream type filling.
I also dip the center, as opposed to the more traditional and nomenclature proper use of cocoa powder, which simulates the apperance of a true truffle much more accurately. I like the extra punch of being able to coat the truffles with the single origin chocolates from Guittard. Here is the dipping station and some of the centers. I cannot seem to do this neatly.
Here are the completed truffles, both in the roughly rolled form (traditional) and a cut form to make tiny little towers, just an experiment to see how it worked. I do like the odd geometry of the cut truffles.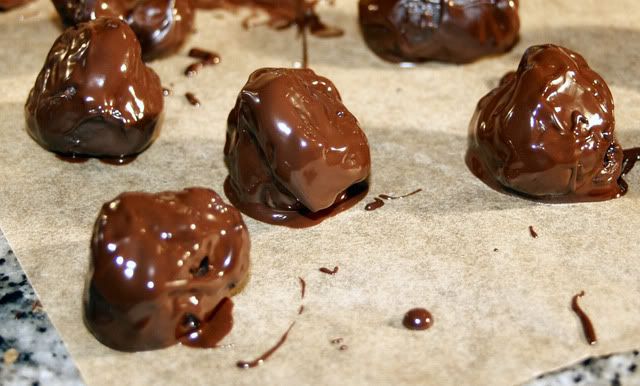 Simple Ganache Recipe for truffle centers
2 pounds chocolate, couverture is best, 68% is acceptable
1 cup heavy cream
1/4 cup cognac, or other liquor (optional)
1. Chop chocolate into pieces no larger than 1/2" in size. Larger is workable, but, makes everything a little slower.
2. Heat heavy cream to just short of a boil, do not burn. Add liquor if desired.
3. Add hot cream mixture to chocolate in a metal bowl, stir to combine and start melting of chocolate.
4. Stir until ganache forms, it should appear silky and slightly thickened.
5. Pour into a pan or similar shallow vessel.
6. Allow to cool to room temperature, you can place in cooler or refrigerator to speed process.
7. Using a small disher or melom baller, form rough balls. They do not need to be perfect as a rougher surface resembles a truffle.
8. You can use a pastry bag to fill molds or pipe shapes.
9. Dusting with cocoa is the easiest way to finish truffles.
Since I like a very soft center, I add a little more liquid, up to another 1/4 cup of heavy cream to make the ganache softer, which makes it harder to work with, but, so soft and melting when eaten.