Because man cannot live on meat alone. And this is a better way to get roughage than drinking an orange wheat cocktail. I made an apple crisp, in part because the members of the Outdoor Cooking Guild were talking about doing and apple cooking event. And since I will be out of town for the Oinktoberfest being organized by some of the BBQ Brethren and CBBQA. Back to the apples, the crisp was made with a mix of Fuji and Jonathan apples, I find that both of these apples cook up well and have a better flavor profile than the usual Granny Smith. Now to the pics.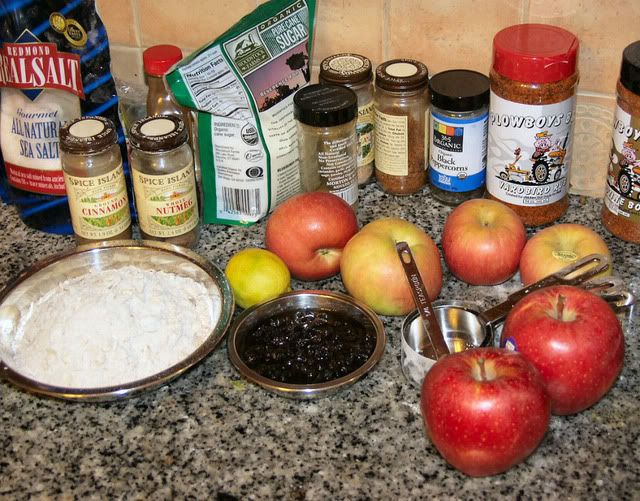 The ingredients, staged and ready to go. Ignore the Plowboy's, it had just arrived and was just on the counter. The raisins are being macerated in Woodford's Reserve bourbon, I believe the bottle is not in the photo due to being re-tasked to the beverage counter off camera.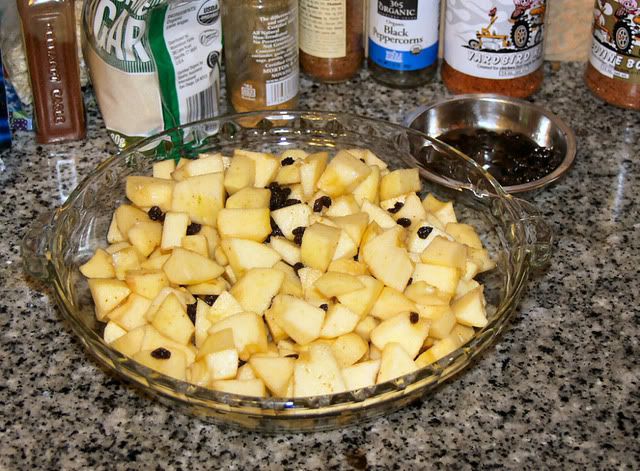 The apples peeled and mixed with raisins and sauce ingredients.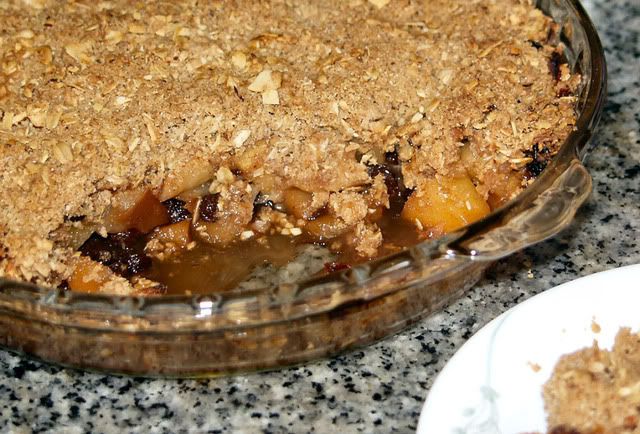 Out of the kettle, and with a little bit missing. The topping was a little over worked, thus was smoother and more finely textured than I would normally like. This did not detract, as I was very happy to eat this serving, and more.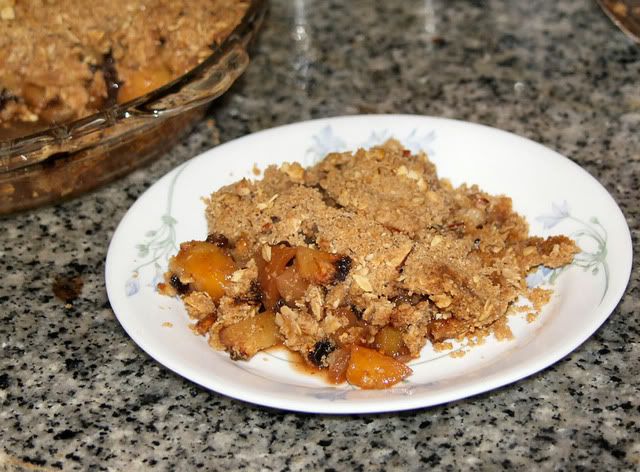 Yum, the topping broke up nicely, the apples and raisins played nicely together with the bourbon and maple syrup helping smooth the way. This would have been great with ice cream or whipped cream, sadly, the 'fridge was devoid of the necessary ingredients to make that happen. This will happen again, next time with something sweet and creamy along for the ride.

Apple Crisp

Topping:

1/2 cup all-purpose flour

1/4 cup granulated sugar

1/4 cup light brown sugar

1/2 teaspoons ground cinnamon

1/8 teaspoons fresh ground nutmeg

1/8 teaspoons salt

6 tablespoons cold unsalted butter, cut into small pieces

1/3 cup rolled oats

1/3 cup chopped walnuts or pecans

6
cups
Fuji and Jonathon apples, peeled, cored and cut into 1" pieces
1/2
cup
Zante currants soaked in 1/4C bourbon
1-1/2 tablespoons granulated sugar
1.5 tablespoons granulated sugar
For the topping: I mixed all of the dry ingredients into the bowl, then added the butter and using fingers, pinched the butter into the dry ingredients to create a crumbly texture.

For filling: I added all the ingredients into a large bowl and toss to mix. I then covered and let the mix macerate for an hour. Then place the filling into the pie pan (or ramekins) and cover with topping. Bake at 375F until bubbly and topping is golden brown.