A long time ago I was a kitchen professional, I gave this a serious thought or two about what kind of life this could be. In the end, I decided that cooking was not my lifetime career, it has remained a passion, as has the act of feeding others. This past weekend, I was asked to cook for a small party of 55 or so. I got a case of excellent wine from Clark Claudon Winery in Napa Valley. I will mention, if you have not tried this little known winery, the Sauvignon Blanc and Cabernet Sauvignon are beautiful expressions of Mountain Wines sourced from just below Howell Mountain along Pope Valley.
Now to the BBQ, I was asked to prepare quite the meat variety pack with burgers, hot dogs, sausages, chicken and tri-tip. I would guess somewhere upwards of 30 pounds of meat. I was provided 3 Weber Genesis gas units to cook on and a nice kitchen for preparation work. The tri-tips are the subject here, as I have been using a 'new to me' method for cooking tri-tips. Time for a picture...
Would you like tri-tip that looks like this? I have been working with this method for the past nine tri-tips I have cooked, one four different cookers with every one coming out like this. It starts with apple and oak smoke, I run the cooker at 250F and I smoke the tri-tip for 2 hours. I will lower the heat if necessary to keep the internal temperature below 120F. After two hours, I will raise the temperature in the cooker to high heat and sear the surface of the meat. If I have kept the interior below 120F, this works to carmelize the surface and create another layer of flavor while keeping the meat medium rare. Time for another photo, check out the moist texture...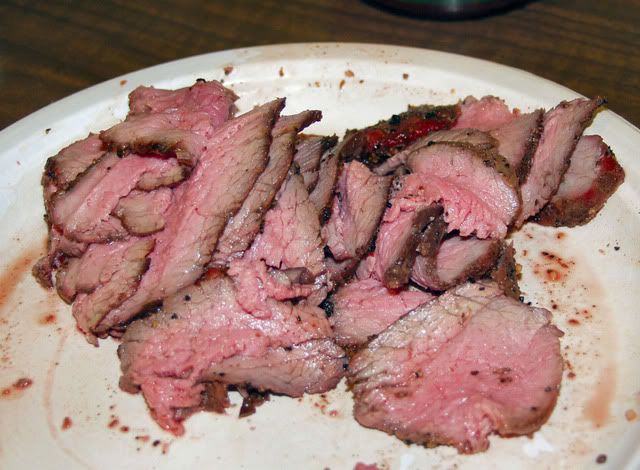 This meat stayed moist even once it was served buffet style. I generally do not like to serve tri-tip buffet style as it can dry out and cool down quickly, leaving an undesirable presentation and texture. This stays moist and melting tender even when cold. This is now my standard method for preparing tri-tip, replacing my old method of grilling tri-tips over oak fire, the more traditional Santa Maria style I originally learned. I just really like the ease and repeatability of this method. Here is the parting shot.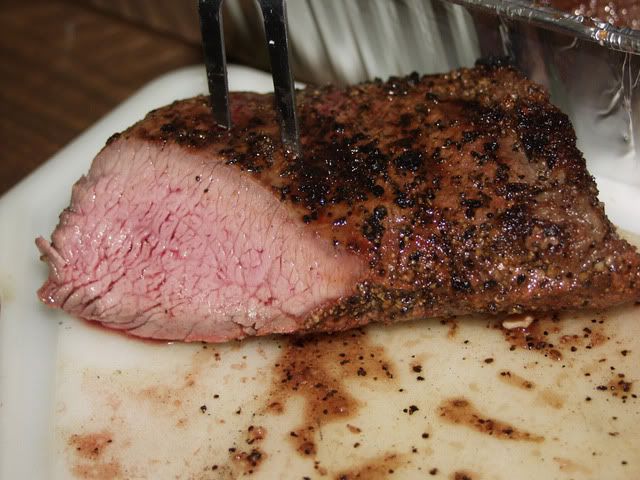 Here is a link to Clark Claudon Winery, if you like a California wine with the backbone of Calfornia without the jammy profile, you want to look these folks up.
Clark Claudon Wines