While I was eating lunch a few weeks ago, my friend Matt, of Phat Matt's BBQ in Oakland, CA told me he had seen some pork cheeks at his supplier. I asked him to get me a few, if he bought a case. Last Tuesday, he handed me a second bag, with the cheeks already marinating in his rub. Matt uses a salt-free rub on most of his meats, so having them already in the rub is not a concern for moisture. I made these...
I give you...Smoked Pork Cheek Carnitas! First I smoked them for 2 hours at 225F, this just seemed like a great way to start the process of building and layering flavors. Here they were on the grill (lower left corner) with yesterday's ribs and a sausage fattie.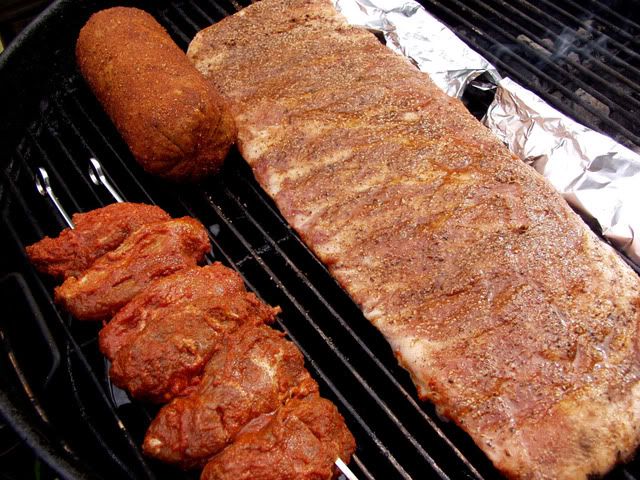 These were then cut in half and placed in a pot with some olive oil, sliced onions, Lucky Dog Hot Sauce and at the last minute, some sliced garlic. As you can see, the meat had a nice smoke ring and texture before ever hitting the oil.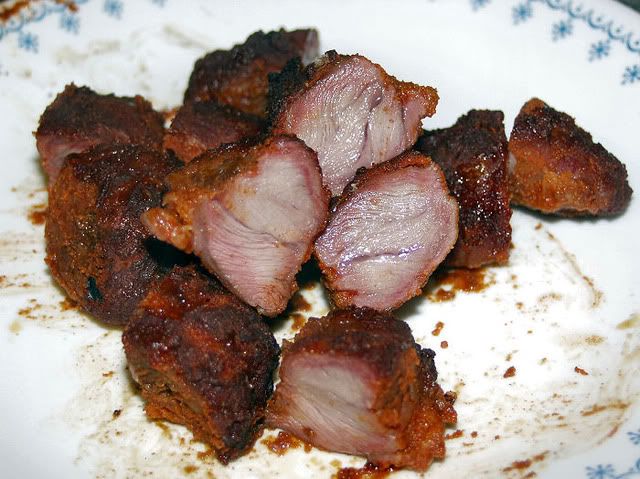 I am not really sure what to do with them just yet. I let them cool and they are in the fridge now. I did test them and they were terrific. I will probably freeze them for later consumption.