Well, I am back to cooking finally, everything seems to be back in place just in time for the June On Our Grill Challenge, complete with new badge for the blog. My hope is to come roaring back with a dish that really shows a little flash. This month, the ingredients are doozies, they are:
Turkey
Soba Noodles
Almonds
A vegetable that is not green
First off, I made a turkey sausage, with the following ingredients.
Turkey Sausage
1/2 pound Turkey, give it a medium grind (required ingredient)
1/8 pound thick cut hardwood smoked bacon
1/8 cup fish sauce, as usual, I went with the vastly superior Red Boat 40N Fish Sauce.
1/4 teaspoon each of mustard powder, chile powder, lime powder
1/2 teaspoon plus a little more Todd's Dirt herbal BBQ rub
1/2 teaspoon katsuoboshi furikake (yes, specifically for the bonito flakes and nori)
1 teaspoon apple wood smoked salt (yes, I smoke my own)
1/8 teaspoon Truvia stevia based sweetener
1/2 cup hot water
I bloom the spices in the hot water, everything but the meat. After icing down, I add the meat, which has to be cold to work correctly. The water aids in evenly distributing the spices throughout the cold ground meat without an additional grinding phase. Since I intend to smoke this sausage without a casing, the added moisture will also create a little more steam, adding to the texture I want for the final plating. I decided to add some chopped onion and parsley to the sausage and gave it a good rub of Simply Marvelous Sweet and Spicy rub. I think this added just a little more flavor to the turkey.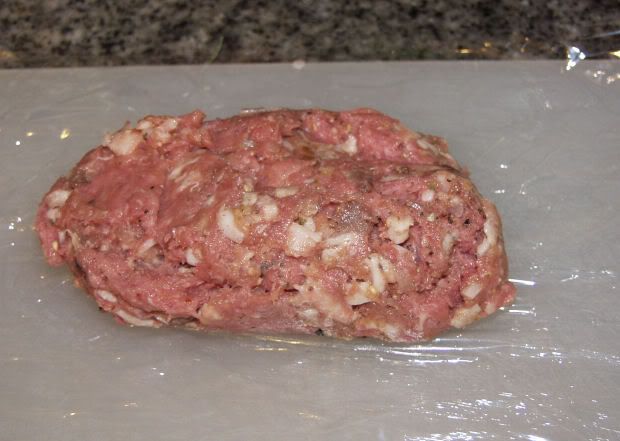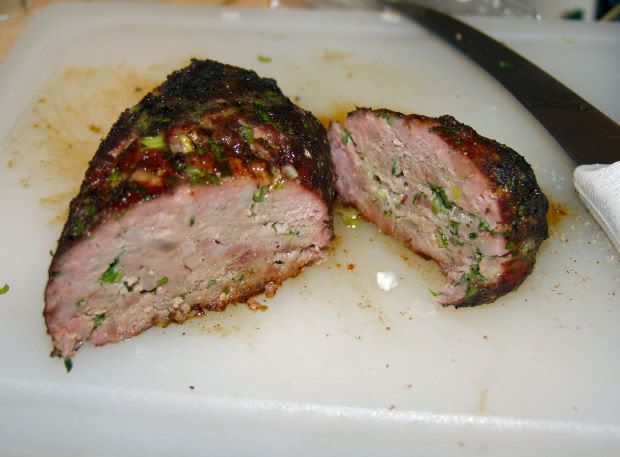 Carrot Curry Sauce with Almond Milk
1 cup chicken stock
1/3 cup almond milk (required almond ingredient)
1 cup water
3 medium carrots (required not green vegetable)
1 small or half of medium onion
3 cloves garlic
Spices...I am gonna use black pepper, white pepper, cloves, nutmeg and curry spice.
1 teaspoon kosher salt
1/2 teaspoon Truvia
In small saucepan, dry roast the whole spices to warm the aromatic oils, after the aroma becomes readily apparent, but, before smoking, add the curry powder and shut down the heat. Allow to cool slowly. Then add cooled spices to a grinder and reduce to powder, I use a coffee burr grinder for this. Take carrots and onions and saute until softened, add garlic and heat to sweat garlic. Add 1/2 of spice mix, saute for a minute and add liquids, bring to simmer, add final 1/2 of spice mix and using a blender or immersion blender, process until smooth. Add Almond milk at end and adjust sweetness with Truvia if needed.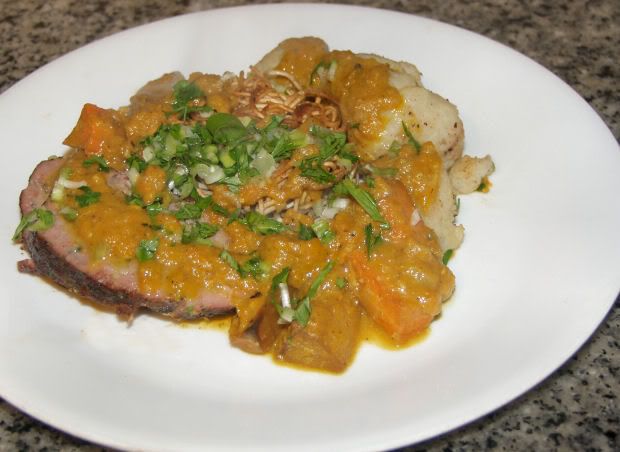 Aloo Gobi a la Kettle
1 cup cauliflower florets (required non-green ingredient)
1 cup chopped sweet potato and russet potato
1/2 cup green onion and parsley, chopped
Cauliflower florets were lightly steamed then grilled, potatoes were roasted over coals. Potatoes were chunked, mixed with florets. I decided to lightly saute with herbs then plate with curry sauce (above) draped over the veggies.
Soba Cake
1/2 cup cooked soba, cooked until done.
1/4 teaspoon of cornstarch for binding and texture
Toss soba with a light coating of the cornstarch, set into ring mold and allow to cool and bind into a cake form. Then fry cake in wok or small skillet carefully turning to achieve a crisped surface to the soba cake. The cornstarch should add a little crisp to the cake.
A final garnish of chopped parsley and green onion to add a little color and crunch texture was just right. The sausage was very flavorful and had a hint of Southeast Asian flair, I attribute this to the fish sauce, green onions and parsley, along with the slight added fish flavor of the katsuoboshi furikake. The potatoes and cauliflower ended up with more curry sauce than I intended, but, the sauce has an incredible depth of flavor so this was fine. The soba cake was crispy and added a much needed textural counterpoint as well.
Larry Gaian of The BBQ Grail
-
Entry Here
The BBQ Grail
website was created in 2007, initially to document the author's quest to find the perfect backyard BBQ experience. Since that time The BBQ Grail has become one of the more popular BBQ blogs on the internet and is listed on
Alltop.com
as one of the top BBQ blogs.
The
No Excuses BBQ website
was started in January of 2009 as a way to record the author's goal of cooking outdoors at least once a week throughout the year and showing the results to the world. Somewhere along the way things got out of control…
Jerry Russel of Cooking by the Seat of my Pants
-
Entry Here
Cooking by the seat of my Pants
began life as a way to document our culinary misadventures. Since then it has become our way to encourage people to cook without boundaries or recipes. To just get in the kitchen and cook something from the heart.
Jason Adams of Jason's BBQ Adventures
-
Entry Here
Started
Jason's BBQ Adventures
in 2007 and originally fell in love with real BBQ the first time I tried to smoke a pork shoulder and soon after started smoking ribs, brisket and chicken. After a while I started to experiment with grilling and smoking just about anything and ultimately fell in love with the entire cooking process.