I decided after the taco episode, that since I was fired up for Mexican-type food, it would be good to try making carnitas in the kettle. The rules for this cook were simple, prepare a pork butt, over fire, in the kettle and end up with carnitas. The trick was going to be a way to get some smoke flavor while maintaining the crisp surface which makes carnitas so good. I decided that I needed to make sure the meat would render and cook in it's own fat, this meant using a pan in the kettle. That looks like this.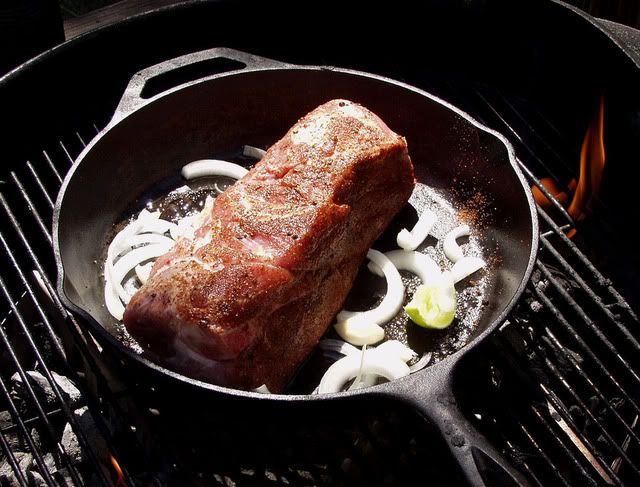 As you can see, indirect fire from both sides of the skillet, I placed onions, garlic, crushed lime and some chili heavy rub into the pan. The butt was given a similar rub which was rubbed very lightly onto the meat. Heat was brought up to 325F to make sure the pan remained hot enough to render the fat. You can see some of the rendered fat in the shot below.

Once the shoulder was done to the probe, I removed it and foiled it to rest. After removing some of the fat and cooked down veggies, I added some coarsely slice onions and Yukon Gold potatoes which were coated with a liberal dose of chili powder and BBQ rub. I also added 5 peeled cloves of garlic. This was allowed to pan fry over the charcoal baskets as well. Once these were also done to the probe test I smashed the garlic cloves and blended it all together. I then added back the meat and heated it all for serving.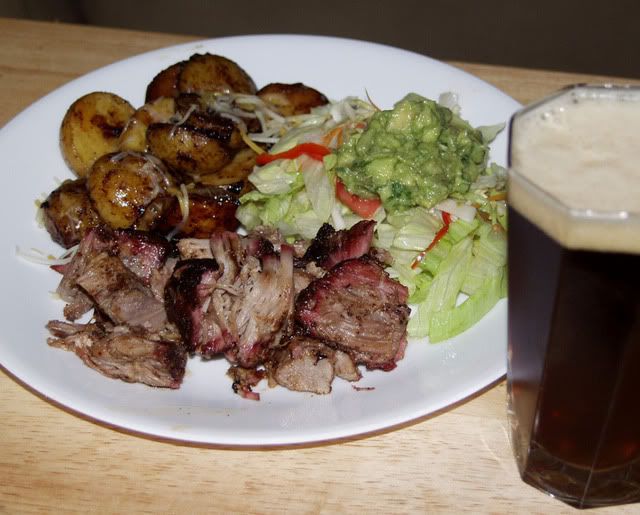 I added a lettuce and cabbage slaw seasoned with Japanese rice vinegar, Thai chili sauce, red peppers and chopped tomatoes. This is my continuing effort to come up with a slaw recipe that I can enjoy with heavier foods. This one worked quite well and will join the rotation. Once again, I was joined by the Arrogant Bastard. He just keeps showing up.