Tonight, I did not get home in time to get the kettle where I wanted it and get what I had planned cooked. I decided that tonight was a good night for Macaroni and cheese. And this is how things got out of hand.
Sauce:
1/2 cup butter
1/2 cup flour
1 teaspoon salt
1/2 teaspoon pepper
1 teaspoon dry mustard
3/4 tablespoon chile powder, Plowboy's Bovine Bold (more on this later)
2-1/2 cups Half & Half or whole milk.
1/2 cup sherry
2 cups cheddar cheese
1/2 cup each gruyere and smoked gouda
1/2 cup finely chopped onion
1 finely chopped jalapeno
Pasta:
1 pound of macaroni or other suitable pasta shape. Prepared 'al dente' drained.
I start the process by using a small amount of oil to saute the onion, add the peppers after the peppers have softened and turned translucent. Meanwhile, I dice up very cold butter and mix it with the flour, presifted with the dry spices. Once the onion/pepper mix is softened, I add the butter/flour mix to the pan. This is cooked over low heat to make a blonde roux. Then the milk or half-n-half is added to make a white sauce, sherry is added to finish the sauce. The cheeses are then placed in a large bowl, the sauce added to make a cheese sauce. Toss this with the pasta and place into an oven or BBQ proof container. Since I planned on the kettle originally, I went with cast iron. I topped with a mix of walnut bread crumbs, panko and parmesan cheese. Into an oven for 45 minutes at 375F.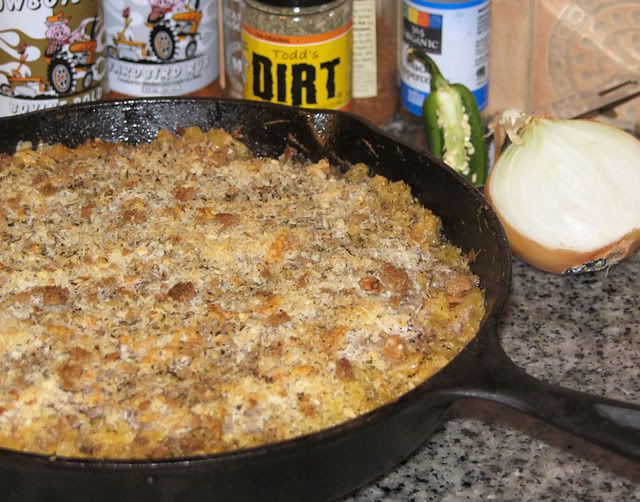 And for a beverage to wash it down with, Augustin Ale from Belgium, which I figured the match of beer to the heavy texture and flavors of cheese and FAT would match up well with the sweeter, malty profile of a Belgium double. I used the Plowboys Bovine Bold in lieu of chile powder, just to see. I also heavily dusted the top of the dish with Todd's Dirt, these were both excellent additions, you can taste the herbal qualities of the Todd's Dirt and the fullness (boldness) of the BBQ rub Bovine Bold in the sauce. Even though I did not 'que this dinner, I like the idea of leveraging the techniques and flavors for indoor cooking.