Yes, another new rub to test. In the style of BBQ that I prefer, the rub is an important part of the process, since I use sauce sparingly, the flavor of the meat really becomes the center point of the dish. I prefer a lighter smoke, and simple rubs, preferring to invest as much as I can in acquiring the best tasting meat that I can source. This being the case, I want a rub that will complement the meat, not over power it.
Tonight's dinner was to be a tri-tip, grilled directly over hot coals, in the manner of Santa Maria style BBQ with the exception that I used charcoal and white oak instead of building the fire exclusively with Coastal Oak. The rub (the whole point of this post) was from Burnt Sacrifice, which I found in a local grocer (yes, I bought it). The tri-tip roast was washed, dried and then rubbed with about half of what the manufacturer suggested. Here is what it looked like.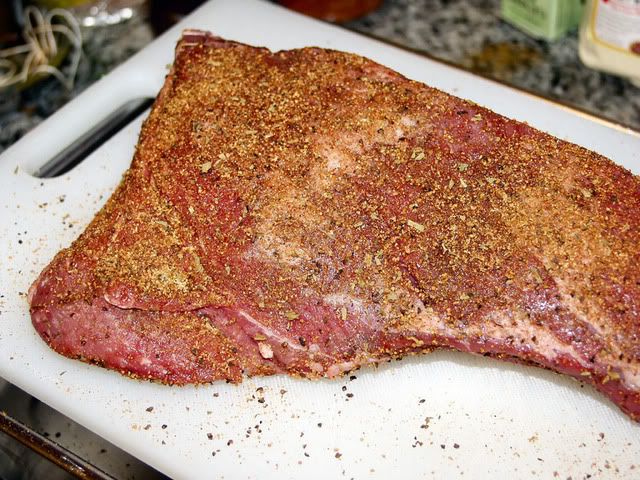 The roast was allowed to rest with the rub on it, a small fan running to help create a pellicle, this is important in my process, as I use no adherents to adhere the rub, the salt in the rub chemically reacts with the meat and fluids in it to create a sort of skin over the surface which assists in holding the rub in place. The roast was then placed over a fully lit bed of coals, about 6" above the coals and allowed to cook for 7 minutes a side. I would estimate (based on the thermometer) that the temperature at grill level was 400F. Then pulled and allowed to rest for 10 minutes. Resting tri-tip as shown.
Here is another view after slicing.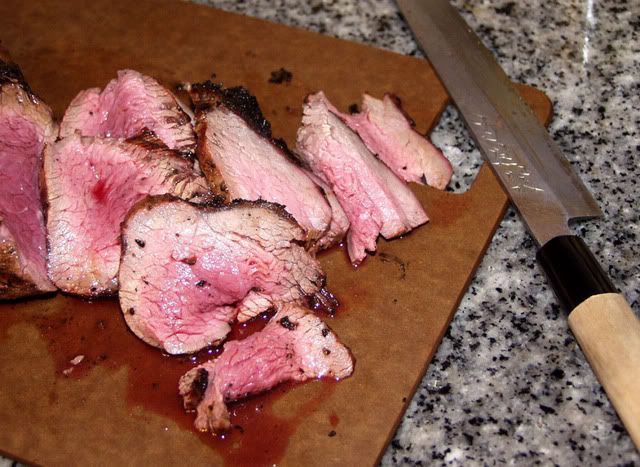 Yes, I prefer my tri-tip on the rare side, it is a lean cut and I do not believe it benefits from being cooked to medium in any way. The meat was beefy, very juicy and tender. There was not a lot of bark, I do not consider this a flaw in this style of meat preparation; as I stated before, I prefer this be all about the meat. It was served with cole slaw and some rice, and accompanied by a Lagunitas Ale, the limited release ' Little Sumpin' Extra', which was a classic West Coast ale with a load of everything hoppy and un-subtle.
Oh, and stay tuned here, as later this week, maybe tomorrow or Monday, there will be a couple of reviews of rubs from Simply Marvelous BBQ, including a seafood rub that I will be using for the first time as well.