Went to a new restaurant in Oakland, Hawker Fare, which I had high hopes for. The experience proved two axioms, one is that who you dine with matters more than what you eat, the other is to be wary of the high expectations driven by anticipation. First, to my dining companions.
One of the perks of blogging and being connected (however vaguely) to the food business is that you get to meet other people that share your passion. Often, these are very interesting people that can make any dining experience more enjoyable. One of the folks I ate with today was my friend Rob, he of Red Boat slinging fame. The other was Mai Troung, whose blog
Flavor Boulevard
is a very passionate and intelligently written journal of her dining experience. If you have a taste for good food in general, and Asian food in specific, I recommend you click on the link. As for Mai and Rob, they made for excellent dining companions, I would gladly share a table with them in the diviest of dives.
Onto the food, from the time I saw the menu of this new place in downtown Oakland, my old work-hood, I wanted to eat there, I had visions of food that spoke of the street, that combination of flavors, individuality and independence that colors street food, at it's best, as singular, gritty, notably of the street. This was not to be. What I was thinking was BBQ sold off the side of a smoker, carnitas and giardinare tacos off the back of a pickup or odd pieces of chicken on rice with kitchen gravy, the kind of food I love. What I got was good food, food that if I worked anywhere in downtown, I would certainly walk over for.
Main had 24 hour Pork Belly, which looked very good. Reports were that it was good. It sure looks good.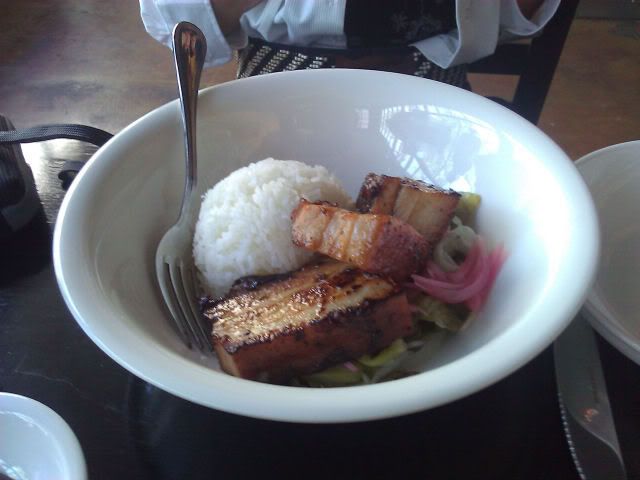 All of the dishes came with a nice dipping sauce and interesting vegetable or herbs to accompany the meat. Rob had Lemongrass chicken which he also felt was good. It is very attractively plated.
And I ordered the Beef Short Rib, which was also quite tasty and had the added interest of a fried egg, an option that I will always take if offerend. The dish was very well flavored and certainly good.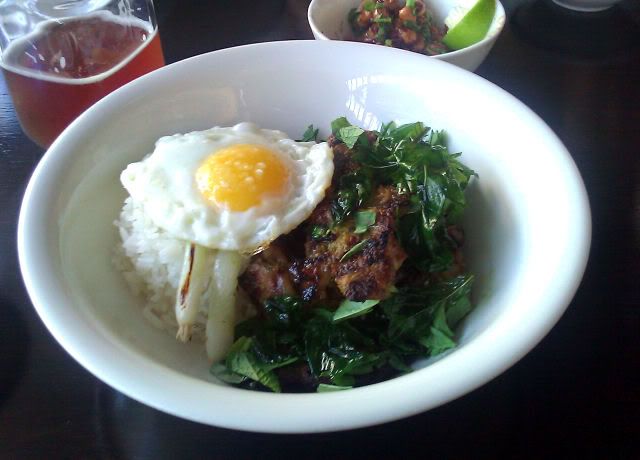 It all ended with soft-serve ice cream, one a sundae and the other ice cream with a side shot of espresso. This is Strauss Creamery soft serve, there is clearly no lack of passion by the owner to present high quality food, in a nice setting with great flavors. This is something they do well, if you are looking for this, then this is a good place to go.
For me, as I said, if I still had my office in downtown Oakland, this place would make the rotation. But, as I said, to some degree, I had allowed my mind to gear up for something that I had no reason to expect, to that degree, this was a pleasant food experience with very interesting people filled with talk of food and cooks who are pushing the limits of what a restaurant can do, what I had hoped I had found here.