Well, I had a hot dog, I know, not a cooking technique extravaganza. But, there is a story, for I did not plan on a hot dog today.
I had gotten a offer to test out some Beta versions of a rub that a friend in developing, these rubs were offered for free, so when he said he was sending a shipment to my local BBQ shop, could I pick it up there to save shipping. Of course, I am getting free product after all.
Free rubs that ended up costing me over $70 because once I got to the store, I ended up buying a bunch of stuff including an interesting relish made from garden vegetables including green tomatoes. Now, along with my odd love, as a California born, bred and never left boy, of traidtional BBQ and no sauce ribs, I love chow-chow, a relish made from green tomatoes. This looked similar so I had to have it. (along with two bottle of Victorine infused balsamic vinegar). So, if you have relish, you need hot dogs to test it out on.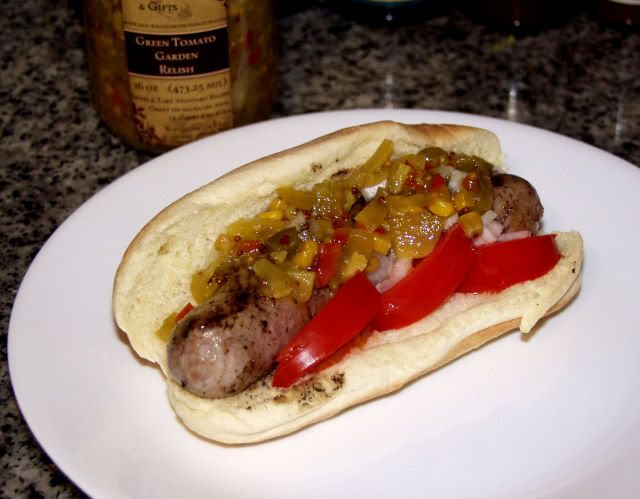 It was a hot day and Spare the Air was all the talk, so I did not fire up the kettle, or my gas grill. Instead, I grilled it indoors on my cast iron grill pan. A Caggiano Italian Sausage, fresh tomatoes and onionsn, a soft roll and the aforementioned relish. It wasn't a huge dinner, but, I am still trying to get less huge. It isn't quite Chow-chow, but, it was very tasty and had a nice sweet/sour profile to it.